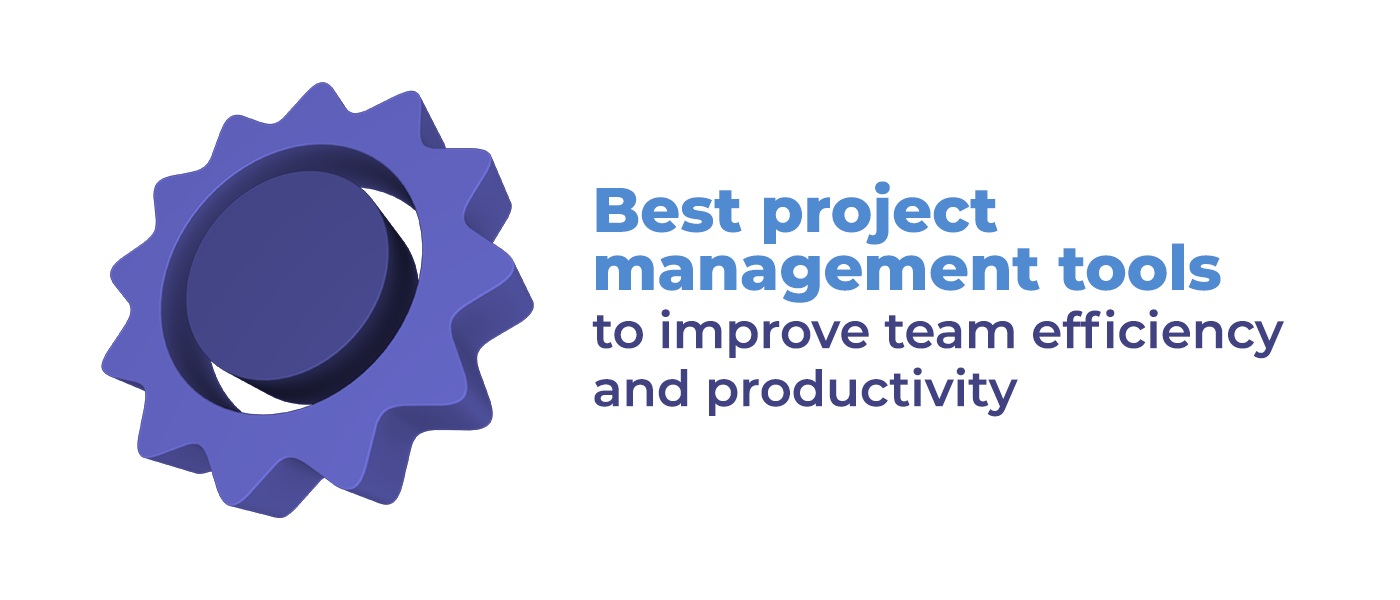 Project management tools have become widely available today to individuals and companies alike.
Whether you are an individual or a small company looking to manage a few projects, or a large company managing a large set of projects and work teams, you can now find several suitable tools.
Some of them have free plans with limited features to start with, and almost all of them are based on a monthly subscription model.
Most pricing options are based on the existence of different features, but most institutions will be able to find a tool that suits their budget.
We have tracked the best project management tools available in the market today, regardless of the size of your team, project, or budget.
The 6 best programs for managing projects and work teams
Here are the top 6 project management tools, ranked according to their ability to accommodate all types of projects in a progressive way.
Projecto is the easiest Project management tool: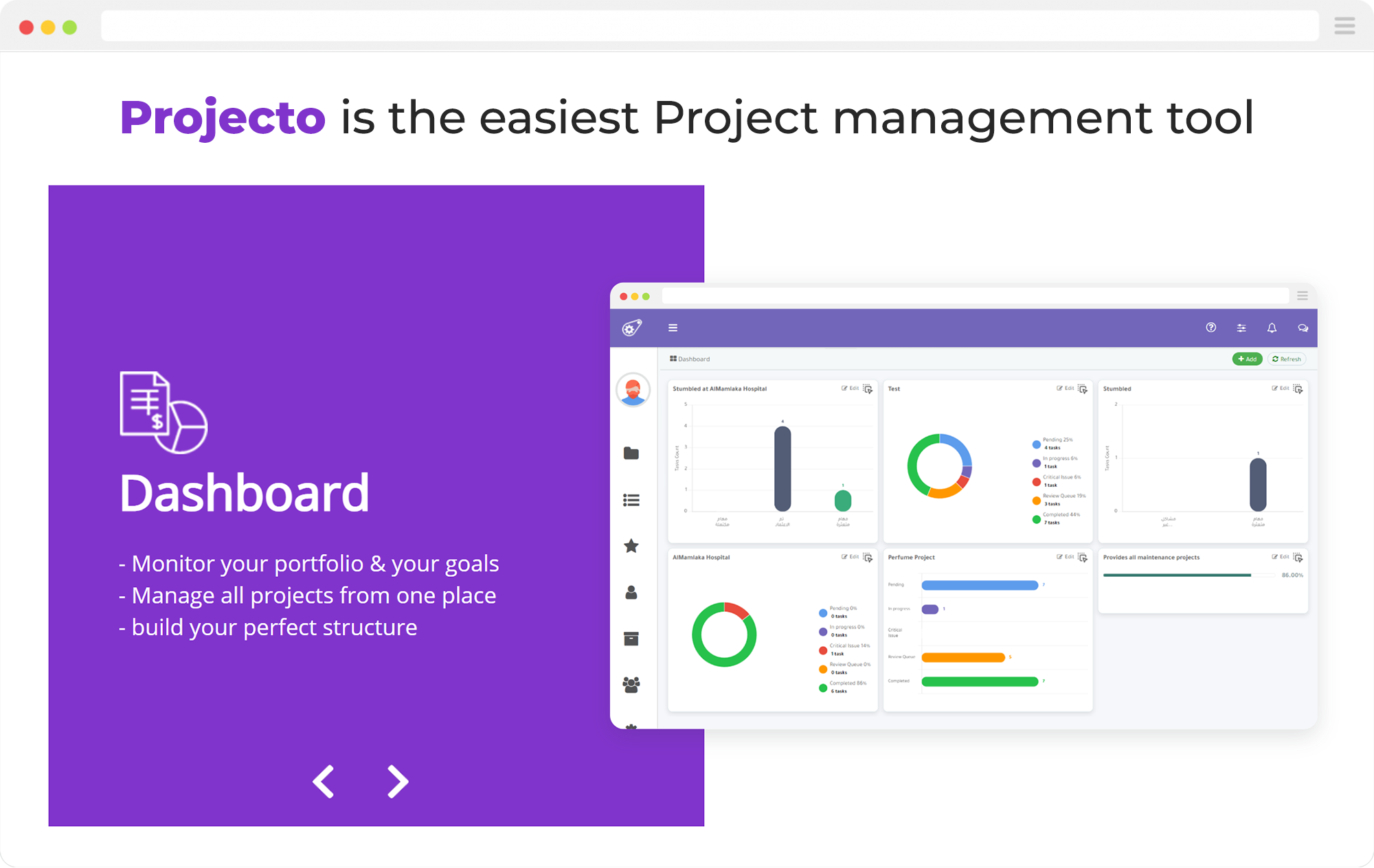 Projecto, with its Arabic interface and global features, allows you to manage and monitor all your projects and work teams from one place in a fast and smooth manner. You don't need an expert to manage your projects.
Projecto provides many tools designed to increase team efficiency and help management monitor and control performance:
A fast visual interface designed to display and manage tasks for each project on the timeline, with an understanding of the priorities of each task and its status through colors, as well as providing a quick overview of the tasks and the ability to view their details with a single click.
Provides a Gantt chart visual interface for managing tasks, resources, and timelines easily.
You can control your tasks in the form of cards on a Kanban board, which suits many projects and work styles. You can also assign users to each task, add comments, attach photos, and more.
Smart alerts to monitor the progress of tasks and projects.
The ability to assign recurring tasks.
A real calendar that reviews the schedule for the tasks and the projects.
The ability to assign recurring tasks. A practical calendar that reviews the order of your tasks and the tasks of the work team, helps you organize the agenda and control the tasks smoothly and quickly.
It is available on the web in addition to smart applications on the Apple Store and Google Play.
Projecto offers a free plan and a number of paid plans starting from SAR 19.95 per user per month.
Wrike (Project management tool)
Project Management tool provides standard project management features such as Gantt charts and dashboards, as well as an integrated set of comprehensive reports.
Recently, a time-tracking tool has been added, which is available to every individual working on a specific task and to project managers as a whole, similar to those found in Projecto. It is not a replacement for a dedicated time-tracking system but easily handles most basic requirements.
The free plan provides task management, interactive dashboards, spreadsheets, cloud integrations (Google Drive, OneBox, Box, OneDrive), and 2 GB of total storage for unlimited users.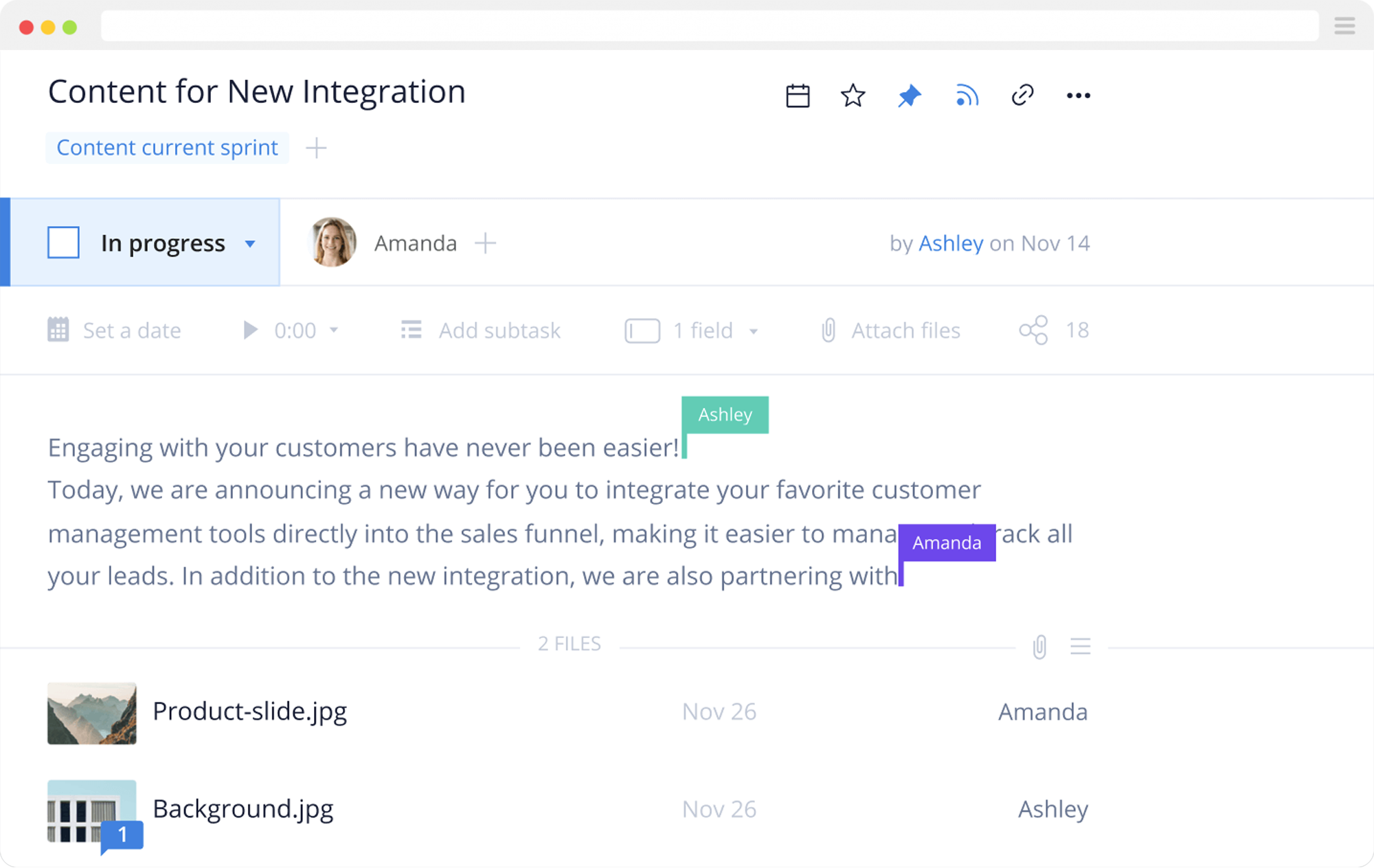 Paid plans are slightly more expensive than some competitors but unlock all the software's options, from shareable dashboards and interactive Gantt charts to productivity integrations like MS Projects at the professional level ($9.80 USD per user per month). Wrike is available on the web, along with iOS and Android app versions.
Scoro
Scoro is a comprehensive project management tool that combines many features you may need to manage your work: projects and tasks, contact management, quotes, team collaboration, invoicing, and report preparation. All your important information is stored in one place, making it easy to manage your team remotely or on the go.
Scheduling work, meetings, shared team calendar, task and project management with an unlimited number of projects, as well as communication and file sharing.
What sets Scoro apart is simplifying the progress of your work, so you don't need to use a lot of different tools for each task. It is possible to end up solving more challenges than expected, Scoro surprises you with a very wide range of functions.
However, it does not offer a free package, only giving you a 14-day trial period, with plans starting at $26 USD per user per month.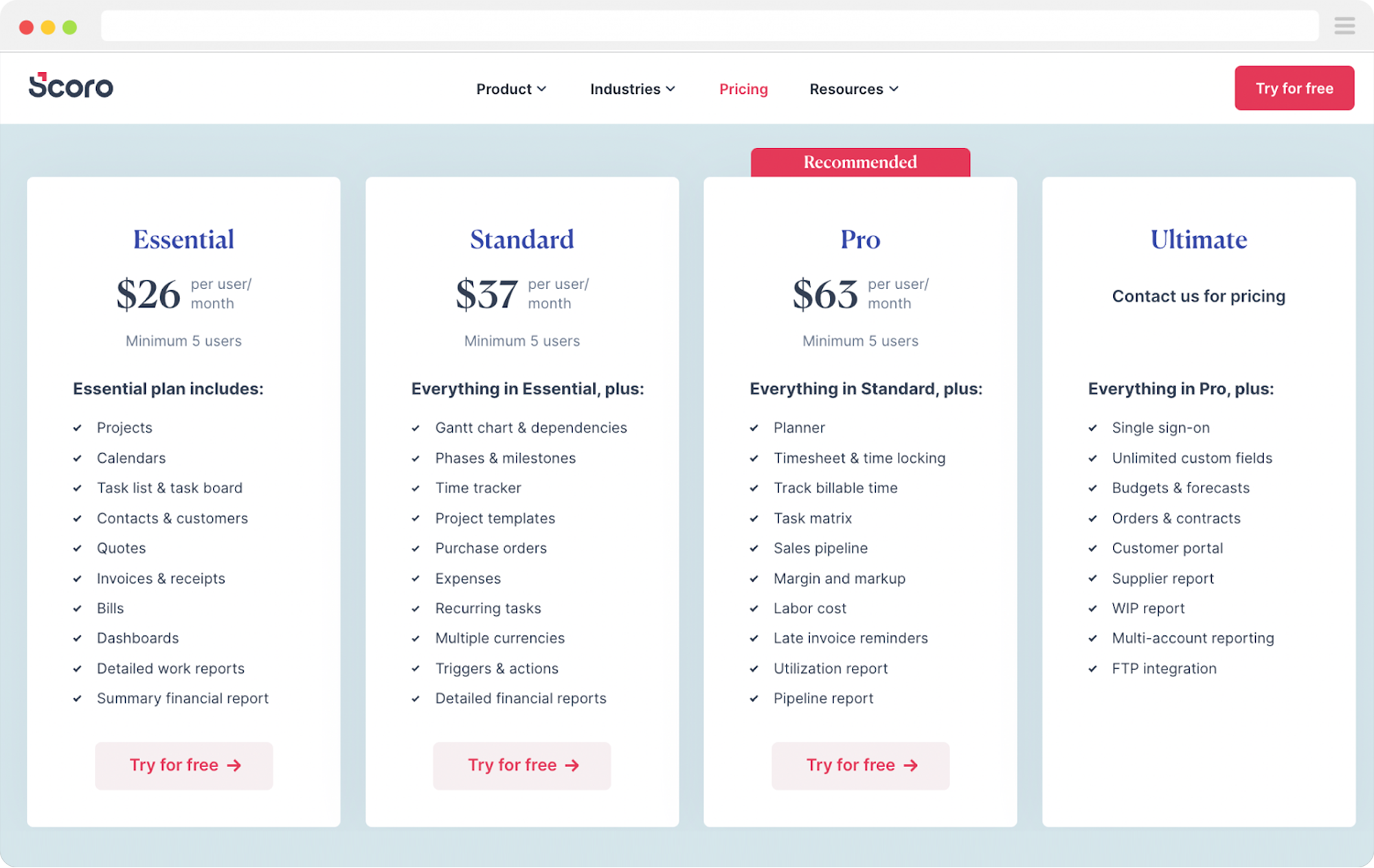 Trello (Project management tool)
Trello is a project management system that offers a simple interface and a free version, making it a great system for individuals and small teams to begin managing basic projects.
Instead of traditional tools designed to manage resources and track progress towards a specific deadline, Kanban-based applications like Trello offer greater freedom and flexibility.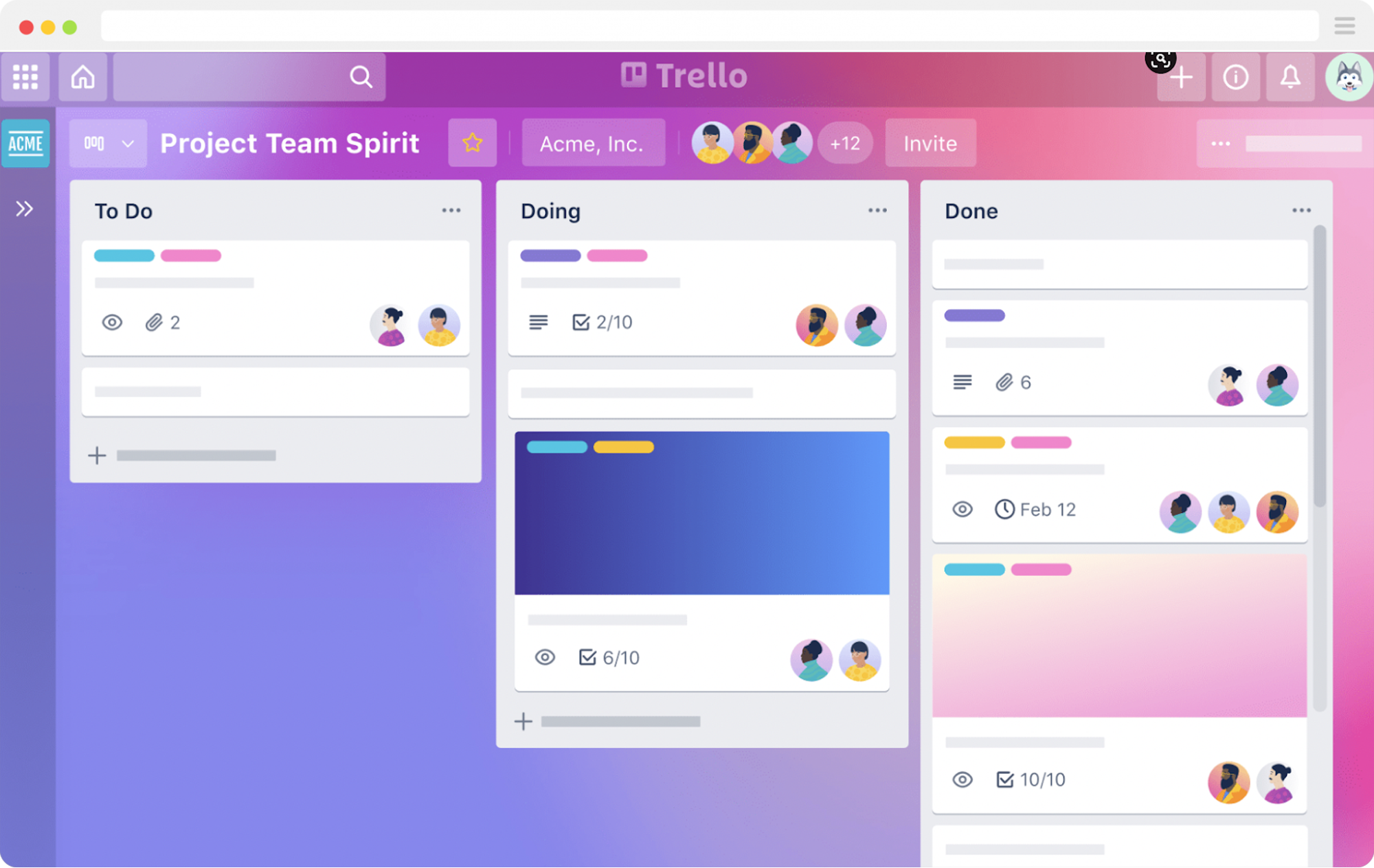 With Trello, you can manage both individual projects and ensure a smooth workflow.
The board and card system is easy to understand and allows you to include attached images and files, branching links, customized drop-down lists, task start and end dates, and more.
Once a particular card or board is complete, you can archive it to hide it from daily view while still having access to it if needed in the future.
The basic free package includes an unlimited number of users and cards, up to 10 boards, and a limited storage capacity of 10 megabytes per file. Paid plans start from $10 per month, with fewer or no restrictions.
Trello includes very limited reports, and although external extensions add more options, you may still need to search for another system if detailed reports are a key requirement.
Asana
Asana combines project management elements with file storage and helps manage projects across teams without email. Key features include the ability to divide your work into tasks and add the work team, organize tasks and timelines, and use project dashboards for a quick overview. It offers a limited free plan and paid plans starting at $9.99 per user per month.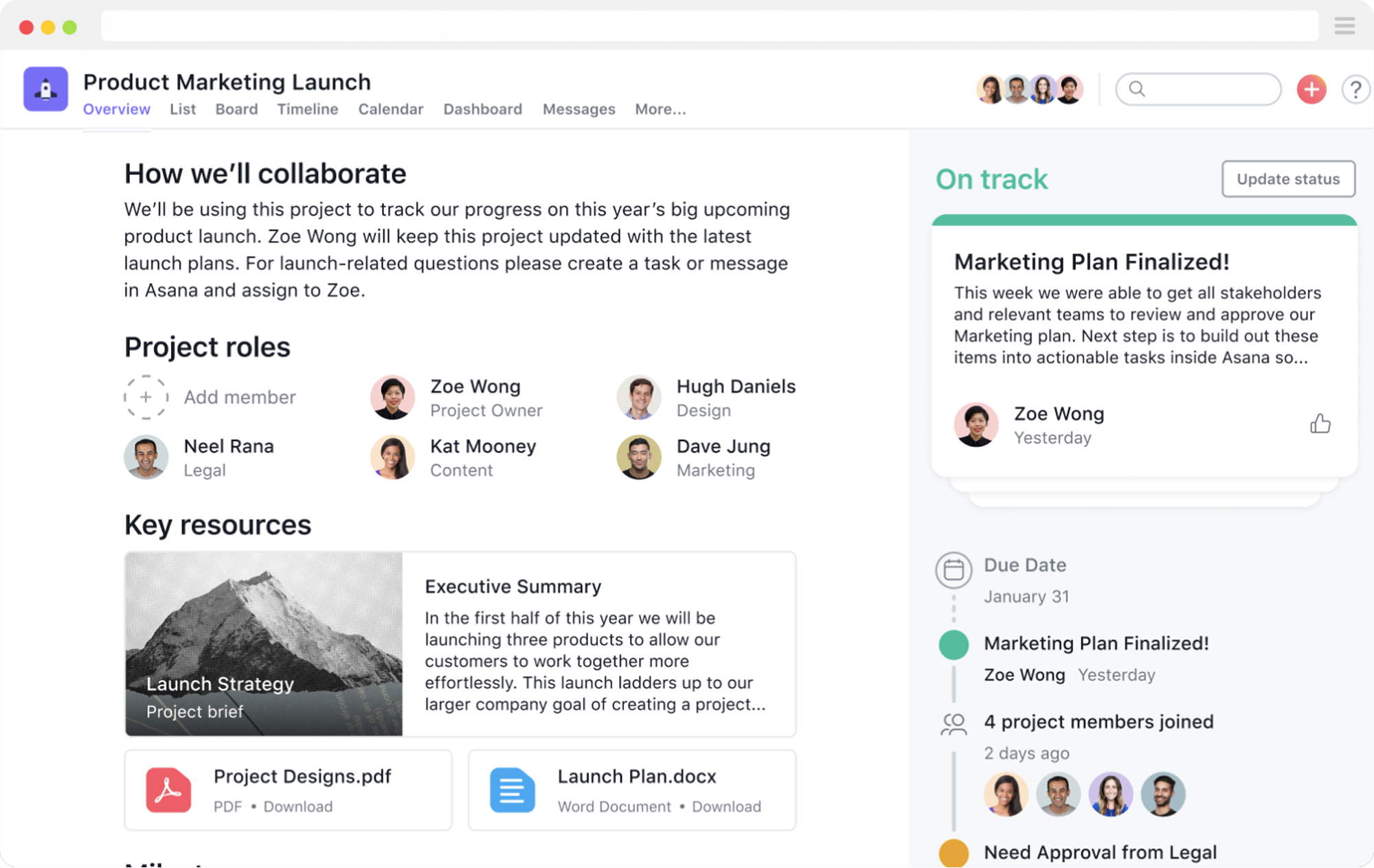 Conclusion
There are various tools and project management systems available, ranging from those that offer features suitable for individuals and large projects such as Projecto, to those that offer features suitable for individuals and small projects only, such as Trello.
The choice of the most suitable system depends on the nature of your projects, the benefits it will provide you, your budget, and varying monthly costs for the services provided.
If we compare Projecto with most global project management systems, we find that Projecto is the most efficient tool in terms of features and cost, as shown in the image above.
Now you can manage and monitor your projects with your team faster and smarter through an Arabic interface and from one place. Try Projecto now for free.